EDN 🇪🇺 seminar #2️⃣ : Madrid 🇪🇸
Guys, you're awesome, we have reach our target of participants are now complete. We'll come back to you to confirm your participation. Please think about your financial contribution to complete the registration process.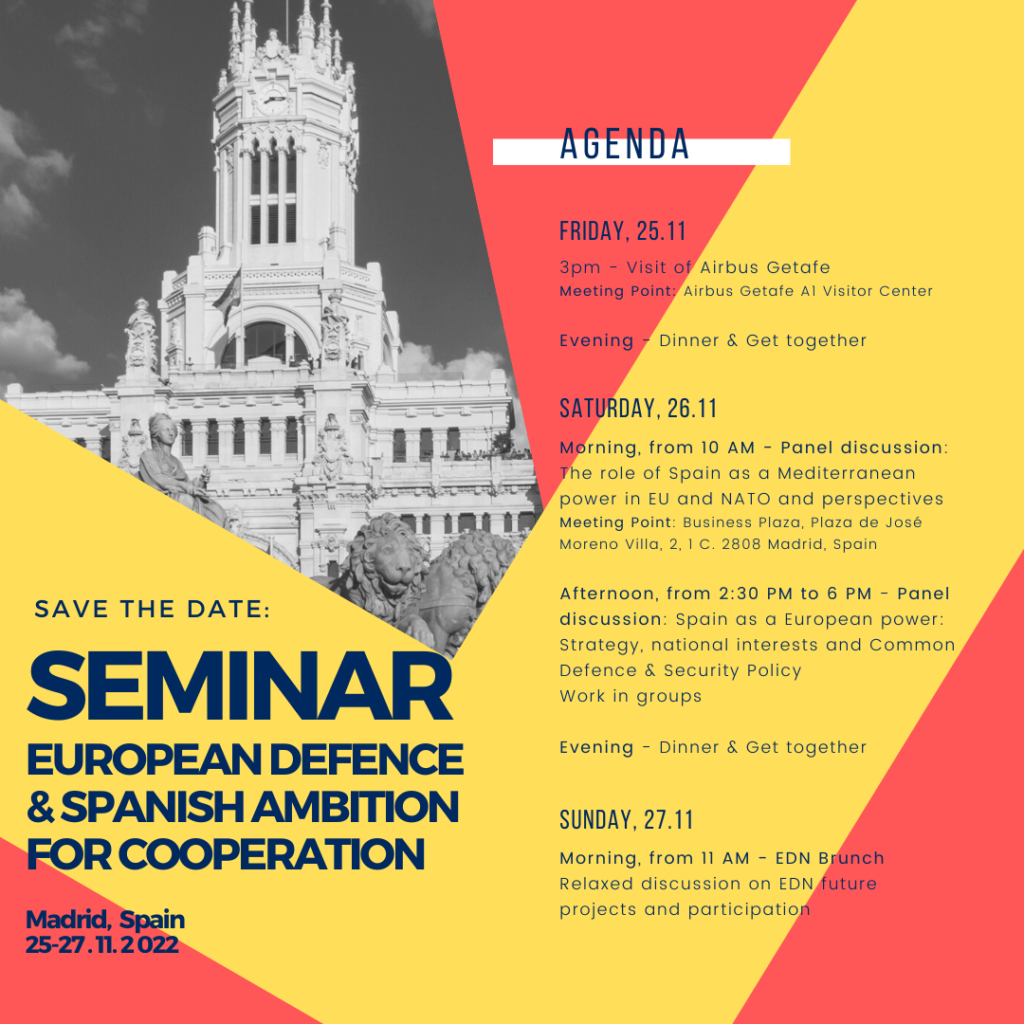 Day 1 Friday 25th
AFTERNOON
03:00 PM :📍Airbus Getafe Plant A1 Visitor Center
⭐️ Visit of Airbus Defense & Space Getafe with the Seminar participants ✈️
EVENING
08:00 PM : 📍 Dinner at restaurant
Joint dinner 🍽 and networking 🌍
Day 2 Saturday 26th
MORNING
10:00 AM: 📍 Business Plaza, Plaza de José Moreno Villa, Madrid
Introductory session
11:00 AM to 1:00 PM :
⭐️ First Panel discussion: The role of Spain as a Mediterranean power in EU and NATO. Perspectives on Spain in theEuropean military cooperation and future developments.
Speakers:
👉 OF-4 Sebastien Latre 🇫🇷
👉 Spanish military (name pending confirmation) 🇪🇸
👉 OF-5 Col Bungert 🇩🇪
1:15 PM to 2:30 PM : Lunch 🍽
Day 2 Saturday 26th
AFTERNOON
2:30 PM to 4:30 PM :
⭐️ Second panel discussion: The current and futuregeopolitical role of Spain as a European power. Strategy development, Spanish national interests and the Common security and defence policy
Speakers :
👉 Prof. Eugenia Hernández Sánchez (UAM) 🇪🇸
👉 Prof. Adriaan Kühn (UFV) 🇩🇪
👉 Prof. Angel Rodriguez Garcia-brazales (UAM) 🇪🇸
4:30 PM to 6:00 PM :
Group work and closing meeting
EVENING
8:00 PM : 📍 Dinner at restaurant
Joint dinner 🍽 and networking🌍
Day 3 Sunday 27th
MORNING
11:00 AM :📍 Coffee place
EDN Member's Brunch 🍽 – Interested participants very welcome. Outlining of future projects and possibilities to participate in the organization.
AFTERNOON
Free for visit of Madrid 🇪🇸 or networking 🤝
European Defence & Spanish ambition for cooperation 🚀
Dear members and friends of the EDN ✋,
➡️ One of our major goals is the facilitation of an European exchange 🤝 on defence and security topics through personal encounters. After our first experience in Paris, we are glad to announce 📣 that round 2 is coming. This time, we'll bring you to Spain 💃🏻.
Discover the position and challenges
of Spain 🇪🇸 in European defence.
Raise awareness of the industrial, political and military issues
of defence in Europe 🇪🇺.
➡️ To facilitate a productive conversational atmosphere, the number of participants will be limited to 25 persons. We therefore kindly ask you to provide a meaningful short presentation of your motivation to participate.
➡️ Participation to the seminar is 25€ for organization costs (saturday lunch, room renting, …). For foreigners, please get in touch with us to share an accommodation.
➡️ You'll be informed later of the confirmation of participation, once applications will be reviewed. The subscription will be confirmed after our feedback and the payment of your financial contribution. You'll receive a receipt.