International Women's Day: Women proportion of European armed forces
For the International Women's Day, here is below the percentage of women soldiers in the European armies.
This amount is increasing in several countries, as more and more positions and units open for women recruitment.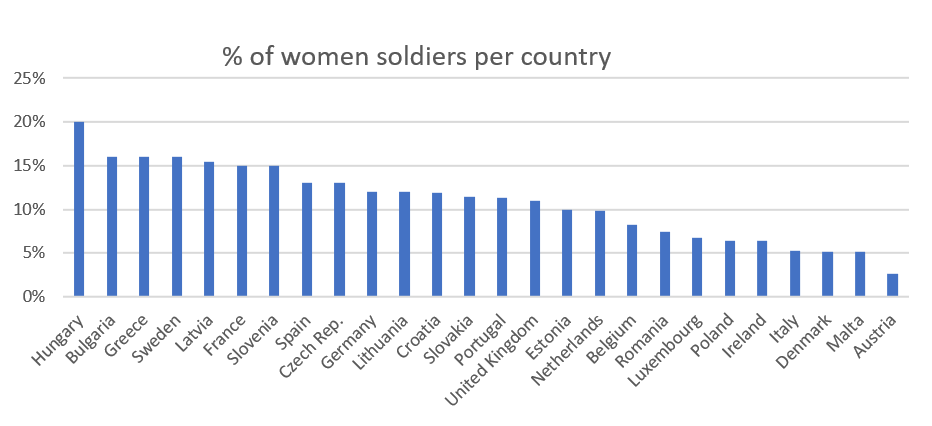 Nota: no figures for Finland, Norway and Cyprus
Source: 🇬🇧
News on industry: FCAS, F35 purchases, Galileo
FCAS: clarifications and "plan B" for Dassault CEO
The FCAS project is undergoing some turbulences lately. After difficulties assessed about intellectual property and workload sharing, voices in Germany began pleading for a national demonstrator to preserve Eurofighter competencies, Dassault Aviation being leader for the NGF.
Recently, while presenting the yearly results of the firm, Dassault Aviation CEO, Mr. Trappier, stated that "the creator remains the master of its intellectual property", but that there will be no "black boxes" on the aircraft. In addition, he estimates that in current talks, the workload sharing is too complicated for his work as technical leader. And despite "vital prognostic not being engaged", "a plan B is necessary" and "technically", France can conceive combat aircrafts on its own.
Source: 🇫🇷
Belgium questions its F35 purchase
Reacting to recent comments from US Air Force officials, saying they could purchase hundreds of F35 less than planned, deputies from the Belgian Chambre des Représentants fear that they are now looking forward to the NGAD (Next Generation Air Dominance, a 6th generation aircraft), leaving F35 behind. They call for a reassessment of their purchase of 34 aircrafts. The new Minister of Defence reaffirmed her will to go forward, but will have to answer to a questioning session.
Source: 🇫🇷
2nd generation Galileo contract signed for Thales Alenia Space, Airbus still waiting
On March 3rd, the ESA (European Space Agency) has signed a 772 million euros to Thales Alenia Space, a joint venture owned at 2/3 by the French Thales and 1/3 by the Italian Leonardo. They will build 6 of the awaited 12 second generation satellites, while Airbus builds the 6 others. However, the German company OHB, who conceived the 1st generation, is still contesting the results of their bid submission.
Source: 🇫🇷
NATO Secretary General joined a European Council meeting
Jens Stoltenberg, NATO Secretary General, was invited to the latest European Council, on Feb. 26th, to address leaders of the 27. In a public address before the Council, he welcomed the strong messages from the Biden administration to strengthen the transatlantic bond. He also wishes the NATO 2030 new strategic concept project to include the enforcement of cooperation with the EU. Due by 2022, it will be built in the same timeline that EU Strategic Compass. Charles Michel, President of the European Council, also stressed that EU and NATO shared "common strategic interests".
This meeting does not prevent the active debate on the relations between NATO and Europe's strategic autonomy to continue. Jens Stoltenberg claimed in an interview to the AFP (French Press Agency) that "EU is not capable of defending the Old Continent and should not weaken NATO with its will of strategic autonomy". He "supports EU efforts for its defence spending", but calls for a "strategic solidarity", and notices that "Europe only nor America only are a solution to the threats" they face.
Meanwhile, J. Borrell, EU High Representative for Foreign Affairs, interviewed by the Atlantic Council, claimed that strategic autonomy "has nothing to do against NATO", and that EU-US cooperation framework is NATO. "There is no alternative to territorial defence of Europe out of NATO", but he precises that strategic autonomy is the condition and the mean for being a credible security provider.
European Union external operations
AGENOR – Strait of Hormuz
The AGENOR mission celebrated its first anniversary last Feb. 25th . Targeting the security issues in the Strait of Hormuz, military actions are held by 8 countries: Belgium, Denmark, Germany, France, Greece, Italy, the Netherlands and Portugal. A new French frigate, the Guépratte, also joined the force.
FR Clemenceau – Multinational cooperation
In the frame of its new deployment, the French aircraft carrier Charles de Gaulle is escorted by American, Greek, Belgian and Italian warships. The group has left shore mid-February and will conduct months of operations in the Middle-East region to fight terrorism.
Source: 🇫🇷
Enhanced Air Policing – Romania and Bulgaria
In the frame of the NATO mission EAP, the Spanish Air Force has engaged Eurofighters for the first time. They are stationed in Romania and will participate in the security of Romanian and Bulgarian airspace.
Source: 🇬🇧